Introducing, the BIKELOKK™ Areox!
The smartest and sturdiest bikelock on the market.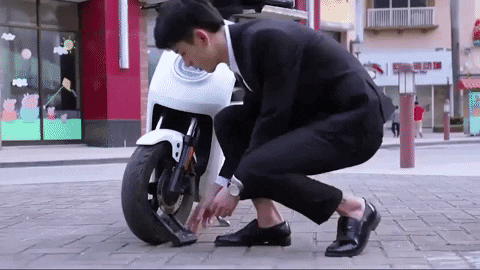 Utilising a sophisticated finger print identification mechanism it provides a very accurate reading, and an unlocking speed of less than 0.5 seconds thanks to its powerful CPU. In case of emergency, the device also has a standard key, as well as physical lock buttons.
The use of a high grade class B lock cylinder effectively prevents the steel casing from being smashed open, even under violent actions. In addition, the robust casing design insures that the components inside are IP65 dustproof and waterproof.
The lock beam is made of high strength and corrosion resistant stainless steel and coated in fine PVC. It can resist 14 tons of repetitive hydraulic stress, as well as electric drill damage. The lock beam is also designed to be locked in both directions to prevent flood damage of the lock, and provide additional lock security against violent shackles.
The fingerprint sensor has operated by a battery which lasts up to 12 months on a single charge. But when the battery drops below 15% it alerts the users. For charging it sports a USB Type – C port.
KEY FEATURES
Fingerprint sensor with support of up to 9 users

Ultra-fast unlock – less than 0.5s
Built-in CPU and constant encryption of fingerprints

Stainless steel lock beam coated in PVC

Anti-theft metal casing for the main body
Less than 15 percent battery reminder
IP65 waterproof and dustproof
Battery capacity: 2600mAh built-in Li-ion battery
Standby time: 12 months long battery life
OUR GUARENTEE
Not satisfied with your order? No worries! Let us know within 30 days and we will give you a stress-free refund.